---
Knowledgebase
Step by step user guide
---
Automatic bulk SMS messaging
---
Automatic bulk SMS messaging is used for single or multiple text message sending in a concrete time. Text message sending time depends on the date indicated in each contact's card. When the concrete date is set in contact's card your campaign could be then launched once or every year at the same time. This is quite useful and effective, for example, for Birthday congratulations.
1.
Choose SMS from the main menu, then choose Automatic.
---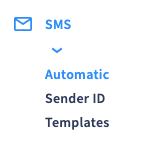 2.
Press Start campaign in the top right corner.
---
3. Choose the necessary option between Run once and Repeat each year.
---
After concrete date and time are set for your campaign it could be launched once or every year at the same time which is quite useful and effective for Birthday congratulations.
4. Select the necessary time (hour) of your campaign beginning. Campaign will be automatically launched on time.
6. Next, choose your audience: whether only one contact will receive your Automatic message, or a group of them, or even all contacts at once. Attention: there must be a date indicated in each contact's card!
7.
Add SMS content by inserting message body text. If necessary, use prepared templates.
More about templates.
8. If attaching a link to your message, activate Analyze efficiency and add web link function. The link to your website will be automatically shortened the preserve valuable message space; as the messages are delivered, the system will then count how many times your campaign receivers have opened the attached link.
9. Last but not least, you can activate Additional settings. Offer your customers to unsubscribe from any further messages in 3 different languages. To be sure that your Automatic SMS looks exactly as you want it to, test it by sending it to yourself or any of your colleges.
Get in touch or create free account
Ready to get started?
---
Our bulk SMS service comes with cutting-edge tools which help to make your text messages go even farther and achieve better results.
---
---
Still inquiring?
Contact sales